Evaluating your social media presence
We all know the importance of evaluation in helping us to gauge the impact of what we are doing – whether it is successful, whether it fits within our overall aims and objectives, how to improve on what we are doing. Social media should be part of our evaluation – and, thankfully, has features which enable us to measure the impact of our presence.
The success of your social media can be measured in terms of:
Growth e.g. no. of page likes, followers
Engagement (e.g. retweets, comments
Action – did your followers follow up on the action you wanted them to take?
It's often difficult to attribute a particular outcome with a particular action on social media – website hits are relatively easy to measure, but as we know, increase in listeners isn't, without using RAJAR! So, it's worth bearing in mind that building your social media presence probably won't bring instant success to the station – but will almost certainly pay off in the medium to long term.
Measuring success
Since what you want to get out of social media is individual to your station, you will need to come up with your own framework for measuring success. What would success look like to you in relation to social media? Is number of followers on Twitter the bottom line? Would you prefer to have a high (and growing) number of followers, or a more stable set of followers with whom you engage regularly? This isn't necessarily mutually exclusive, but may shape the way you engage, as well as how to define and measure success. What does success look like to you, in terms of quantity and/or quality of engagement?
Social media evaluation features and services
Virtually all social media sites have inbuilt analytics that will help you evaluate your social media presence. The most obvious are Twitter's followers and retweets, and Facebook's likes, comments and shares (both per post and per page).
In addition to these, the following are a selection of services that can give you more insight:
Twitter has an advertising platform (https://ads.twitter.com) which you can sign up to without having to take out ads. Once signed up, you will have access to an analytics tab, which will show you a graph of your activity over a period of time, including whether (and how many) people clicked on links, hashtags, etc.
Facebook has inbuilt analytics for pages accessible to page administrators, which shows additional data – such as 'reach' (i.e. how many people see your posts), and how many people are visiting your page. You can access this through the 'Insights' tab at the top of the page (although note that the tab is only visible to pages with more than 30 likes).
Klout (https://klout.com) is a service which tracks social media engagement in order to produce a 'score' of between 0 and 100. As with the services above, this is shown to you as a graph over time of how your score has gone up or down. You can link multiple profiles to Klout, meaning you can track Twitter, Facebook, LinkedIn, etc, from one place.
Hootsuite (https://hootsuite.com) is a social media management service, enabling scheduling and tracking of social media updates across multiple social media sites – but it also has an analytics package built in. Basic stats are available, but you'll need a subscription to access more advanced stats (e.g. on engagement).
Other analytic tools for social media monitoring & evaluation include:
In addition to the above there are also tools that allow you to visualise activity by geographical area. For example, see the map below showing all posts to Twitter that had been geotagged (i.e. indicating the physical location the tweet was posted from – most probably from a smartphone). You might be interested to see the twitter activity in your area – see https://www.mapbox.com/blog/twitter-map-every-tweet/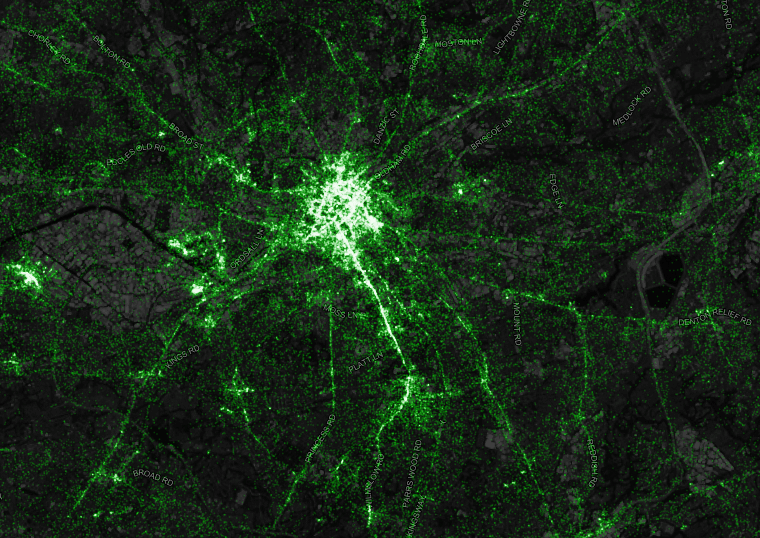 Image: screenshot of global tweet map, showing an area around central Manchester
Other things you can do
Conduct focus groups with listeners, partners, etc – this is a way of finding out what people think of your station. Focus groups have some advantages over one-to-one interviews: they sometimes lend themselves to more natural conversation and free flow of ideas; though they also have associated drawbacks and challenges, such as tending towards a group, or dominant individual's, perspective, rather than eliciting multiple individuals' views (however this can be addressed through your focus group facilitation).
Download your twitter archive ­– this enables you to have access to your tweets and when you posted them, without having to scroll through all your tweets online.