Our bias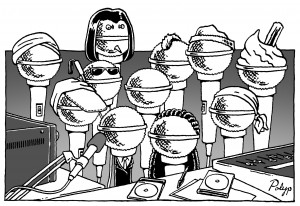 The content  of this site is based on a wide range of experience from a good few community radio people but we must also declare some bias.  There is no such thing as a typical community radio station, and no 'right' way to run a station.  That said, we try to focus on what works to enable stations to thrive and generate the most social gain for their communities.
This leads to our bias – towards stations that don't try to emulate state, public or commercial radio – stations that recognise that our sector really is 90% community and 10% radio and that you can succeed by being authentic without being slick.  We have guides on advertising and sponsorship but we fee that over-reliance on these revenue streams does not play to the sector's strengths and can lead to bland output.
So forgive us our bias and enjoy the many resources in here – and do please let us know what you think. Most of all, good luck in all your community radio endeavours!
Phil Korbel, Director, Radio Regen, January 2015