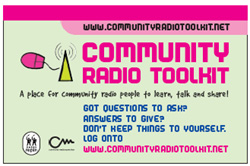 We currently have very low stock of the Toolkit which we need to keep for archive. If you would like one please contact us as we are considering another print run and wish to find out demand.
What people say about the Toolkit
"I must congratulate you on a very handsome and superbly written book. The attention to detail is fantastic with no stone left unturned." Neil Hollins, Castle Vale Radio
"Having been involved in radio for the last 17 years I believed I knew radio, but this tool kit has widened my horizons. It takes you through the wonderful world of community radio step by step, and anyone reading this tool kit will agree that it is all you need to be a viable organisation." Jabbar Karim, Radio Asian Fever
"I have to begin by congratulating you on your work for Community Radio, and the toolkit is my new best friend." Emma Mullen, Feile FM Radio Coordinator
"I loved the story of 'Crazy Frog' and the other real life stories. The 'crib sheet' patches make it very practical which together with a lively and well written text make it a very good read…. a really excellent addition to broadcasting literature. I sincerely congratulate you and your team on such an attractive publication." RobertMcCleish, author Radio Production
Help us to promote this resource
For free posters and publicity cards contact Eleanor at toolkit@radioregen.org with your postal address. Or you can download a copy of the poster.
Updated: March 25th, 2010