September 20th, 2010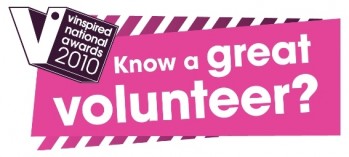 Nominations for the vinspired national Awards are now open! If you know an outstanding young volunteer why not give them the recognition they deserve and nominate them for a vinspired National Award.
The vinspired National Awards are about recognising the extraordinary work of young volunteers aged 16 to 25. Anyone can nominate (although you can't nominate yourself) and anyone aged 16 to 25 and living in England can be nominated.
Nominees can be involved in any kind of volunteering activity with any organisation but must have made a difference between August 2009 and July 2010. There is also an award for the best youth worker, so third sector workers in the industry also have an opportunity to get involved.
An awards ceremony will be held at a secret location in March 2011 where the fantastic achievements of young volunteers throughout 2010 will be rewarded.
Nominations close on 30th September 2010. Click here to nominate an exceptional volunteer:
http://vinspired.com/rewards/nationalawards
Promote this on your station
Richard Berry at Spark FM has kindly made available the audio produced by John Scott to encourage nominations for the Vinspired National Awards.  You can listen to and download the audio here: