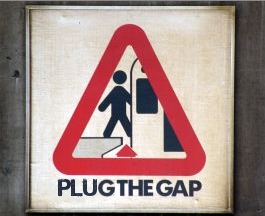 Monday 13th February was the DCMS Manchester event which followed a unique discussion between approximately 18 stations. Called 'Plugging the Gap', this was an ideas swap with the objective of discussing unusual ways to plug the funding gap . Its focus is on covering individual station solutions as well as co-operative and national solutions.
This blog post recorded the ideas being discussed. It has now been updated with some audio recorded on the day
Blog
10:40am – Mary Dowson from BCB talked about working with larger organisations. They get £15k a year for being an alternative education provider to be part of the pupil referral unit within Bradford using radio to coordinate it, having some young people on placement with the station, making radio programmes. It's not project based but service delivery which is more sustainable. The children are referred via other providers, working in partnership with different alternative education providers across Bradford city; BCB provide the coordinating role for this. The outputs are the radio programmes and some video work, some qualifications, really what the station does in its daily role and what they want to do with young people.
The net from the £15k paid comes from only needing 2 days a week employed staff and some overheads. BCB, like any station is not paid for making radio per se but the services they can offer to other organisations. The fact this sits well with the overall aims of the station and is sits within a statutory provision means it has a lot of value to both the station and stakeholder.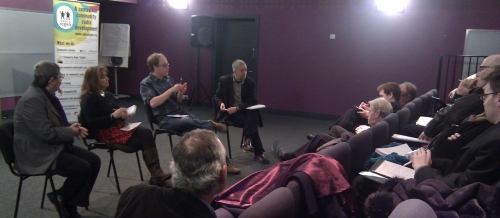 11:15am – Kevin from Bolton FM discussed "99 for £99″ which was a way to raise awareness of Bolton FM and increase advertising – they highlighted the reciprocal nature of the market with local advertisers and the station seeking to "serve" the same audiences. The deal was £99 for 99 30 second adverts per month (plus £29 for advert production) which has generated between £10-15k of revenue. It has fed into a push and greater take up of outside broadcasts through the station's already close involvement with the town council. In addition, the work and greater awareness of pushing outside broadcasts led to an Ofcom grant for developing the roadshows. These roadshows as led them to be able to offer event management facilities to other organisations. It's aimed at people who can't afford the local commercial station so it's a unique offering however, they acknowledge their pull and coverage is limited to be able to take on larger events. However, where the local commercial has let many local stakeholders down with outside broadcasts, Bolton FM has been able to step in e.g. for fireworks events, NHS broadcasts. These outside broadcasts/roadshows clear about £400 profit.
Though it sounds like it could clutter the airwaves it's 3 adverts a day for the organisation and where they have 2 advert breaks an hour, it means they don't drown the airwaves with adverts and can take on up to 36 different organisations.
11:45am – Jaqui from the Community Media Association briefed attendees on the national advertising agency who specialise in "hyper local" websites who are interested in community radio that the sector reaches. This agency are looking to work with community radio stations on grabbing the larger chunks of the market that single stations are less able to access e.g. specialised commercial and governmental campaigns. These campaigns may include specialist languages covered by community radio, particular audiences some stations may have etc.
The idea is still being developed and the CMA welcomes feedback on the initiative via jaqui[at]commedia.org.uk.
Questions from the floor included who the national agency was, whether some stations were already working closely with this or similar agencies. Phil Korbel discussed the experiences of the Manchester advertising consortium where openness had been key to making it work. Dave at Oldham discussed the recent misunderstanding by the COI over what community radio stations were – they had thought they were working with community stations that turned out to be commercial.  Advocacy and awareness needed to be part of the CMA's work with the national campaign agency.
The discussion went back to the £99 for 99 offer and the importance of "knowing your metrics" (Lawrie Hallett) as Future Radio are able to command much higher amounts due to regular surveying of their audiences (e.g. £5000 for an ad campaign from a cab company aimed at students). Though there is a greater story to tell (the Prove It project will show this), it is possible to work in partnership with other community radio stations and build up a survey research legacy that starts to tell your story – and enable you to show the "value" of your audiences. That said, it shouldn't be forgotten that the Bolton initiative works well to direct new business towards its roadshow and outside broadcast project.
12pm – Richard from Preston FM presented his concept which had been spawned from looking for a new building. This, which scarily involved some loan finance, has generated some money including from charging for a car park, through a leasing of spaces to organisations they know very well, hiring of rooms for meetings etc. This has worked well to further embed the station within its community as well as bring in a separate, non-broadcast related revenue stream. They are also working with a 30 strong voluntary sector consortium in the North West to deliver service level agreements for institutions such as schools. Lastly, they have been working with the University of Central Lancashire in their action research on generating social capital. Such action research is very popular and stations are well placed to do it. Funding can be gained from the research councils through partnership working with universities.
These relationships, especially with universities can bring in other means of revenue such as paid placements.
Nick at Canalside discussed the importance of providing money making services whilst equally being proud of the work the sector has done for free. Jaqui however felt the danger was that external organisations did not place a financial value on such valuable services e.g. police campaigns. This needed to be a judgement call, hyper local community work versus value placed on station services.
12:20pm – Conclusions: Jabbar at Fever FM discussed an online TV initiative which would be subscription led aiming for 1000 members over a year and building a community social network that builds on their 18000 unique hits on their website.
Jason at WFM doesn't believe adverts are the way forward and instead its more about developing long term service level agreements however others felt that offering an advertising platform for smaller businesses was a community radio service. Dave at Oldham felt the only way forward was a multiplicity of funding sources and being able to demonstrate the value to be found on community radio audiences.
Thanks to all who contributed, we hope it was a really useful event and a good networking opportunity.
Please let us know what you think of the ideas presented this morning.
Audio
As lunch was taking place, the Community Radio Editor, Eleanor, went to speak to some of the participants who had either presented their money idea or had participated.
Liz from Redshift Radio
Liz expanded on an concept she had touched on during the talks. Redshift is an internet only radio station located in South Cheshire. They are applying for a community licence. Redshift have concentrated on embedding themselves into the business community to generate some long term sustainability. Behaving like a networking hub, Liz works hard to make Redshift Media a place for businesses to connect and gain exposure. In the meantime they pay a subscription to Redshift.
Mary from Bradford Community Broadcasting
Mary expanded on BCB's service level agreement to be an alternative education provider as part of the pupil referral unit. We wanted to find out more about the staff manage working with creative young people who come to them with some issues whilst maintaining the radio station. For BCB, operating such an SLA helps them meet their key commitments whilst providing them with a regular and sustained source of income.
Mary-Bradford-Community-Broadcasting
Richard from Preston FM
Richard had presented three really different ideas for making Preston FM some money but we wanted to hear more about working with academia on their research programmes. Though there is a general downturn in research funding there are particular areas, many which will fall within the social key commitments of community radiostations, that are growing. Richard talked about how they got involved with the partnership process and how crucial the station is for researchers to be able to access the communities they're enquiring about.
Thank you to all three of you. Please excuse the rough quality of the recordings.