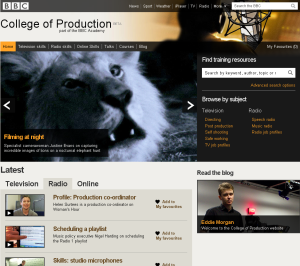 The BBC College of Production website, part of the BBC Academy, was launched on 21 February 2011. The first of its kind for the production community in the UK, the website provides practical advice on all aspects of TV, radio and online production and will be available to the production community and general public for free.
It is hoped that the website will become a valuable asset not only for training BBC staff, but an authoritative and useful resource for the wider broadcasting industry, for people seeking to enter the industry and for other interested audiences.
We think it's a potentially invaluable resource; what do you think?
http://www.bbc.co.uk/academy/collegeofproduction/