A Healthier Manchester
A Healthier Manchester.
The Manchester City Council and NHS Locality Plan, A Healthier Manchester, was finalised in April 2016, and sets out the commissioning plan for integrating health and social care services in Manchester in line with the wider devolution agenda. It contain three key pillars, which are mutually dependent:
A single commissioning function– "ensuring the efficient commissioning of health and care services on a city wide basis with a single line of accountability for the delivery of services. This approach will integrate spending across health and social care on high cost/high risk cohort, reducing duplication of service delivery and fragmentation of care". This is called Manchester Health and Care Commissioning
This is the single commissioning body now responsible for all health and care commissioning in Manchester. Effectively its main job will be to issue two very large contracts – one for the Single Hospital Service and the other for the Local Care Organisation.
Manchester Health and Care Commissioning is a partnership between Manchester City Council and the Manchester Clinical Commissioning Group. It brings together the commissioning of health, adult social care and public health in a single partnership arrangement.
The aim is that, by having a single commissioner, the benefits will include:
A single commissioning voice
Commissioning for integrated and proactive health and social care
A more strategic role enabling larger scale transformation of services
Better use of our collective assets
Manchester Local Care Organisation– a single organisation or partnership "delivering integrated and accessible out of hospital services through community based health, primary and social care services within neighbourhoods. Through the combining of resources residents will get integrated services, resulting in improved outcomes (holistic needs addressed) at reduced cost"
The new Manchester Local Care Organisation (MLCO) took over the running of statutory community health and social care services from April 2018. Manchester Local Care Organisation
In some ways, MLCO will be "all the parts of health and social care which aren't a hospital" – but it will clearly be more complex than that and especially it will have to play a leading role in trying to change the way services and support are delivered through community based health, primary and social care services. This will include how it works with the voluntary, community and social enterprise sector.
MLCO have finalised their report outlining how they will work across and in the 12 neighbourhoods in Manchester. This will enable the neighbourhoods, residents and frontline staff to have the opportunity to raise new ideas and influence strategies from the neighbourhoods with a direct connection straight up to MLCO. An opportunity for Community Radio to engage has been described in more detail in the opportunities section below.
Single Manchester Hospital Service– "delivering cost efficiencies and strengthened clinical services, with consistent and complementary arrangements for the delivery of acute services achieving a fully aligned hospital model for the City."
This is not about Manchester having only one hospital. The ambition here is to bring all Manchester's hospital services under one contract – in other words to require them to work together in ways which don't currently happen.
On 1 October 2017, Central Manchester University Hospitals NHS Foundation Trust (CMFT) joined with the University Hospital of South Manchester NHS Foundation Trust (UHSM) to form the new Manchester University NHS Foundation Trust (MFT). The hospitals included are: Manchester Royal Eye Hospital, Manchester Royal Infirmary, Royal Manchester Children's Hospital, Saint Mary's Hospital, The University Dental Hospital, Altrincham Hospital, Trafford General Hospital, Wythenshawe Hospital, and Withington Community Hospital. This will then be joined by North Manchester General Hospital, currently part of the Pennine Acute Hospitals NHS Trust, 12-18 months later.
The aim of this programme is to standardise care across the city and will bring the opportunity to increase research and education in the region, reduce duplication, integrate patient record systems, and recruit and retain the best staff. The individual hospitals will retain their current names.
More information can be found on their website here.
A diagram of this plan can be found below: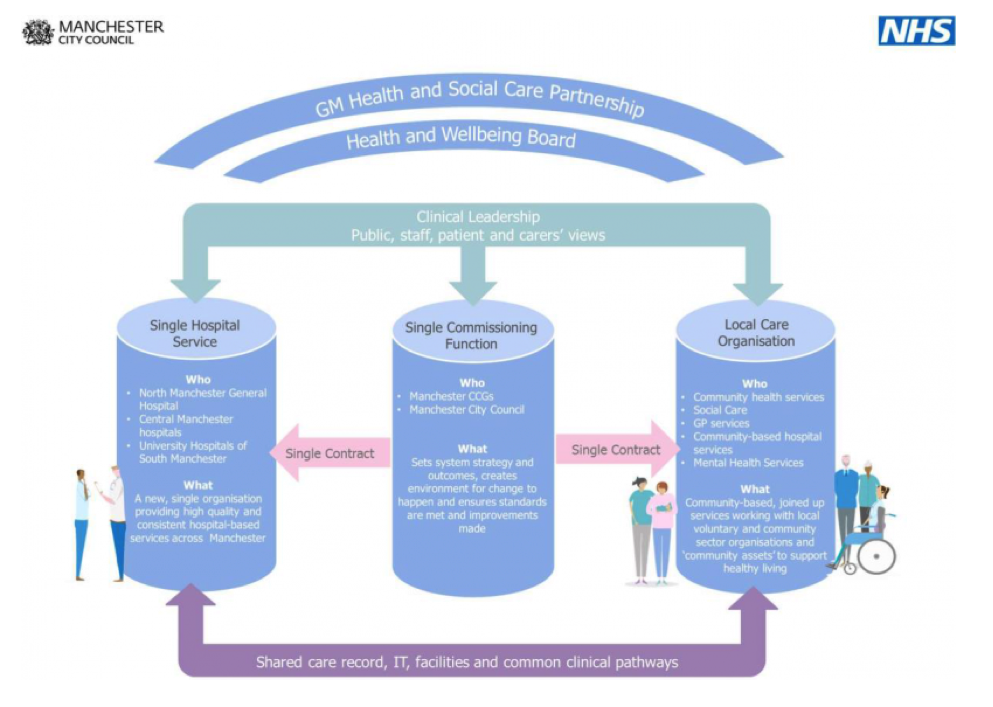 Additional information can be found on the Healthier Manchester website and on the Manchester Locality Plan
Manchester Population Health Plan 2018-2027
This plan has been informed by evidence from research, national and international best practice and local population insight, building on the approach exemplified by the Manchester Joint Strategic Needs Assessment (JSNA). Being aware of, and referencing how community radio can contribute to the priorities outlined on a population health plan would be an effective way of starting conversations with Public Health.
Manchester Population Health Plan
GP Federations:
GP Federations involve GPs coming together to work in a different way. They often group GPs into clusters of neighbourhoods and many have transformation or clinical leads in each neighbourhood to build strong links within that community to provide more person centred and holistic care. GP Federations are often a more effective way of building relationships and exploring partnership opportunities with primary care than trying to contact individual GPs.
Manchester Primary Care Partnership
Community Explorers:
Community Explorers is a network of people with an interest in health and wellbeing meeting on a regular basis in North, Central and South Manchester. The meetings are jointly facilitated by Macc and Manchester Health and Care Commissioning, and provide an ideal opportunity to build relationships, discuss joint working and keep up to date with the changes that are taking place within the health and social care landscape across the city. Meetings in South and Central Manchester alternate with the Neighbourhood Partnerships that are organised by the GP Federations as outlined in the Manchester Local Care Organisation Neighbourhood Approach.
Our Manchester:
The Manchester Strategy outlines the strategic vision for the city of Manchester.
"Only citizens, public services and businesses working together, differently, can deliver this vision of Manchester's future. 'Our Manchester' will be a bold approach that focuses on people's strengths and helps unlock the potential that exists in our city. It will take time and commitment but if we get it right 'Our Manchester' has the power to radically transform what we achieve together"
(Sir Richard Leese. Leader of Manchester City Council and Chair of the Manchester Leaders Forum)